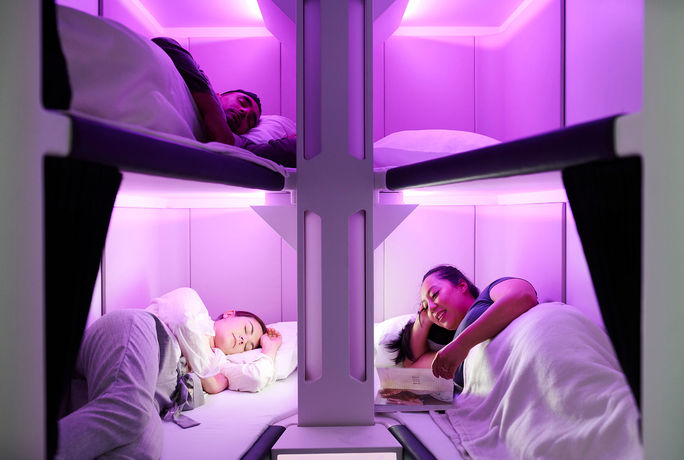 Setting aside individuals who fly first class and business class as a matter of course, who out there hasn't daydreamed about being able to stretch out and relax on a plane?
Cramped economy seats leave so much to be desired. (Understatement).
Air New Zealand fully understands the pain.
And to help make the flying experience slightly more bearable—for at least a few travelers—the airline has just announced the "Skynest," the world's first sleep pods in the sky for economy travelers.
Yes, this little luxury in the skies is aimed not at those with the most money to spend, but at economy travelers.
The Skynest will include six bunks that are available to economy passengers on long-haul and ultra-long-haul flights, on both Air New Zealand's existing wide-body planes and new Dreamliners, which are expected to added to the carrier's fleet in 2024. The Skynest concept, first announced in 2020, will be a world-first.
"We wanted to offer our Economy customers a lie-flat option and that's how Skynest was born. It's going to be a real game changer for the economy travel experience," Chief Customer and Sales Officer Leanne Geraghty said in a statement.
Feedback from extensive customer research over five years highlighted the importance of a good night's sleep and the need for more space and comfort, the airline said in its press release. The new onboard experience was designed in response to this research and with the goal of  "creating a home away from home that leaves customers refreshed and raring to go at their destination."  
In addition to the exciting new bunkbeds, the airline also announced that starting in 2024 on its forthcoming Dreamliner planes, there will be a new Business Premiere Luxe suite, as well as new Business Premier seats. The overall goal of the new Dreamliner design is to provide travelers the best sleep in the sky no matter what cabin customers are flying in, the airline said.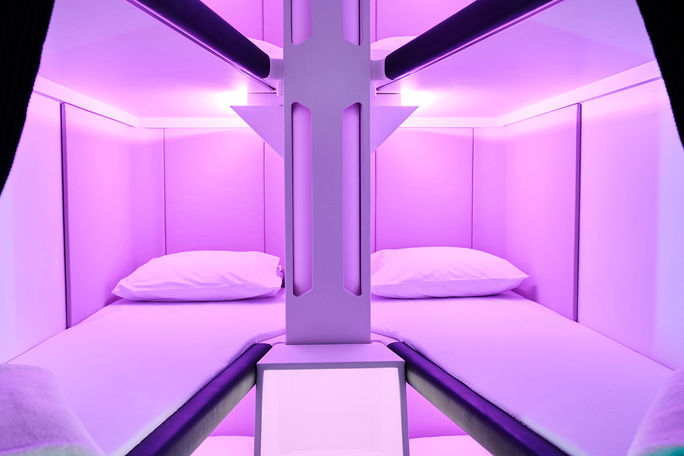 "New Zealand's location puts us in a unique position to lead on the ultra-long-haul travel experience. We have zeroed in on sleep, comfort, and wellness because we know how important it is for our customers to arrive well-rested," Air New Zealand Chief Executive Officer Greg Foran, said in a statement. "It's a proud moment to finally unveil five years of hard mahi, in what truly is a cabin of possibility. One that will provide customers with options to get some shut eye wherever they're sitting."
The new sleeping options aren't the only notable design features on the Dreamliner. The airline has also added a Sky Pantry to the Premium Economy and Economy cabins that allow travelers to grab a bite to eat or a drink throughout their journey.
Sustainability was also an important part of the design process for the Dreamliner interior. That included using modern fabrics, rather than animal-based leather, an effort that saved around one kilogram in weight per Business Premier and Premium Economy seat, which in turn, reduces the plane's overall carbon emissions.
In Premium cabins, meanwhile, the airline is also switching to service ware that is 20 percent lighter, helping to reduce carbon emissions, and in Economy, the new service ware will reduce plastic dishes used inflight by 28 million every year.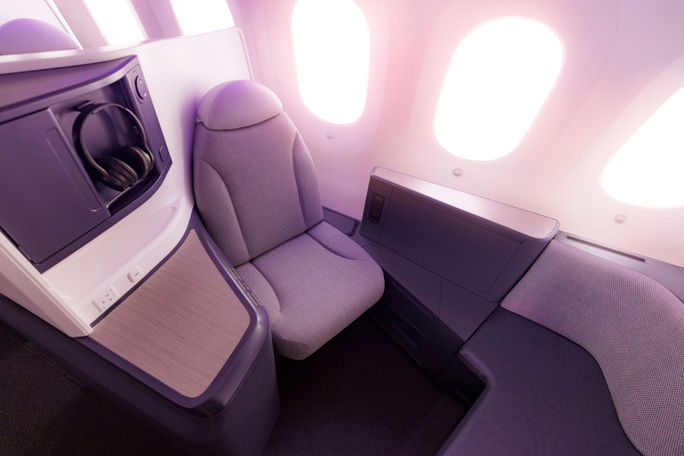 "Research shows us the first night away from home is the hardest to get a good night's sleep so everything we do onboard is to help create a sense of calm – from the lighting and sleep ritual including sleepy teas and balms, to the healthier food choices and breathable fabrics. Meditative onscreen content, Zentertainment, will also help customers unwind and get ready for rest," continued Geraghty.
Here's a closer look at the plane's features.
Business Premier Luxe
These seats will offer a luxury experience that includes all of the features of Business Premier, but with a fully closing door and space for two to dine.
Business Premier
A comfortable and private nest designed to provide restful sleep. For those traveling with a companion, the middle row in Business Premier allows customers to open their nest and share their experience.
Premium Economy
These seats offer more privacy and protected space. Travelers can recline at leisure without interrupting the person behind them.
Economy Skynest
The world's first sleep pods in the sky, in Skynest passengers are able to stretch out in one of six pods for part of the journey.
Economy Skycouch
Yes, a Skycouch, that passengers can use at their leisure. Sit, spread out, or lie down and snooze. Passengers can share the space or keep it all to themselves.
Economy Stretch
These seats are for travelers who want to rest and stretch their legs further than the regular Economy seat.
Economy seat
Economy seats on the Dreamliner are being designed with more storage, comfort and space and a 50 percent bigger screen for entertainment.
---
For the latest travel news, updates and deals, subscribe to the daily TravelPulse newsletter here.

Topics From This Article to Explore

All content is property of the owner, unless otherwise specified. This content is not owned, or maintained by TravelMart,
and is used only for informational purposes. Please visit the content owners link
via the source link for more information.