In the 1920s, rail travel transformed Florida into a booming tourism destination. A century later, Brightline is continuing that legacy by launching a modern, eco-friendly train service between two tourism hotspots—Orlando and South Florida.
Brightline unveiled its highly anticipated Brightline Orlando Station at Orlando International Airport (MCO) on April 20 to a group of 300-plus invited guests, including local dignitaries, elected officials and members of the media.
"With easy and enjoyable access from the biggest hubs in South Florida, this station will serve as the gateway to the most popular destinations in our state, providing seamless connections to world-renowned theme parks, including Walt Disney World, Universal and SeaWorld, and, of course, into this tremendous airport," declared Brightline CEO Mike Reininger at the event.
"To the residents and visitors of Central Florida, your backyard is about to get a little bit bigger."
Once service begins this summer—the exact date hasn't been announced—Brightline will operate 16 daily roundtrips with hourly departures between Miami and Orlando. Travel time from Orlando to the first stop in South Florida, West Palm Beach, will be two hours.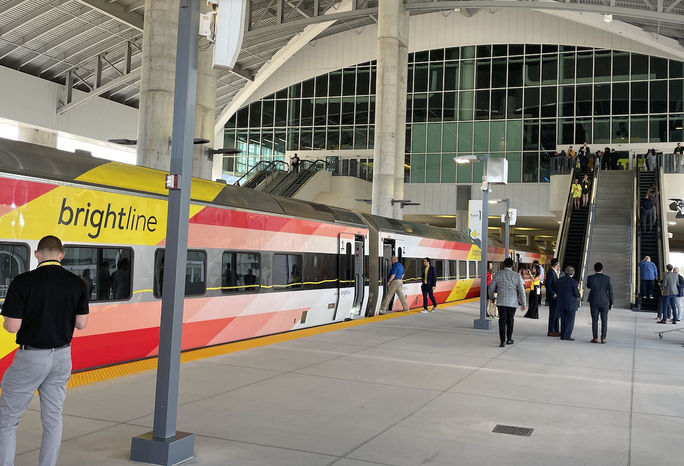 Nonstop Brightline trains between Orlando and Miami will have a run time of three hours. Regular service trains between Orlando and Miami will stop at all five South Florida stations—including West Palm Beach, Boca Raton, Fort Lauderdale and Aventura—with a run time of three hours and 30 minutes.
Ticket sales launch in May, with one-way fares starting at $79 for Brightline's SMART service and $149 for PREMIUM service. SMART fare bundles for families of four will be available for less than $199 each way. Brightline's PREMIUM service includes complimentary meals, snacks and beverages, including cocktails, beer and wine; a dedicated first-class lounge; free checked luggage; priority boarding; and a dedicated coach.
"This is a game-changer for the state," said Patrick Goddard, president of Brightline. "Say goodbye to stress-filled car rides while we invite you to stretch out on our comfortable leather seats. Say goodbye to congestion and traffic, and stream a movie as you glide effortlessly through the state while you let us do the driving."
In fact, Brightline is making history in Florida in more ways than one. Orlando International is now the only airport in the nation with an intercity high-speed passenger rail station. And Brightline recently reached speeds of 130 mph, becoming the fastest train in the Southeast.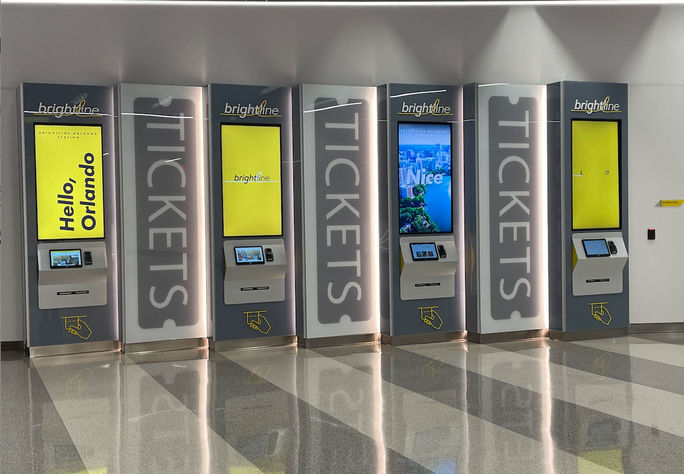 Each year, noted Goddard, about 35 million people travel between South Florida and Central Florida—and 98 percent of them drive or take a bus. Some 50 million people fly in and out of Orlando and Miami airports, while the Central Florida and South Florida cruise ports—Port Canaveral, Port Everglades and PortMiami—serve 16 million passengers. Considering Florida attracts 130 million visitors a year, Brightline's impact on Florida tourism will be "transformative," he added.
"We think that this is a very powerful thing for the tourism industry and a great asset to the state as it relates to getting people to visit the state and getting them to move around the state," said Goddard. "Whereas before it was not a very appealing option if you're staying in Central Florida to visit Palm Beach or Fort Lauderdale or Miami, now we think it will be. We are going to make it easy, convenient, safe, eco-friendly and just a wonderful experience."
That experience starts in the Brightline stations, which are designed as a "callback to the glamorous age of travel," said George Edwards, Brightline's vice president of guest experience.
The sleek, sophisticated Orlando station features a lounge for each class of service, PREMIUM and SMART; self-service ticket kiosks; touchless turnstiles; 486 power outlets for easy device charging; complimentary high-speed Wi-Fi; the BrightKids play area; and Brightline's signature Mary Mary Bar, named for two of the three wives of Florida tourism pioneer Henry Flagler, who founded the Florida East Coast Railway.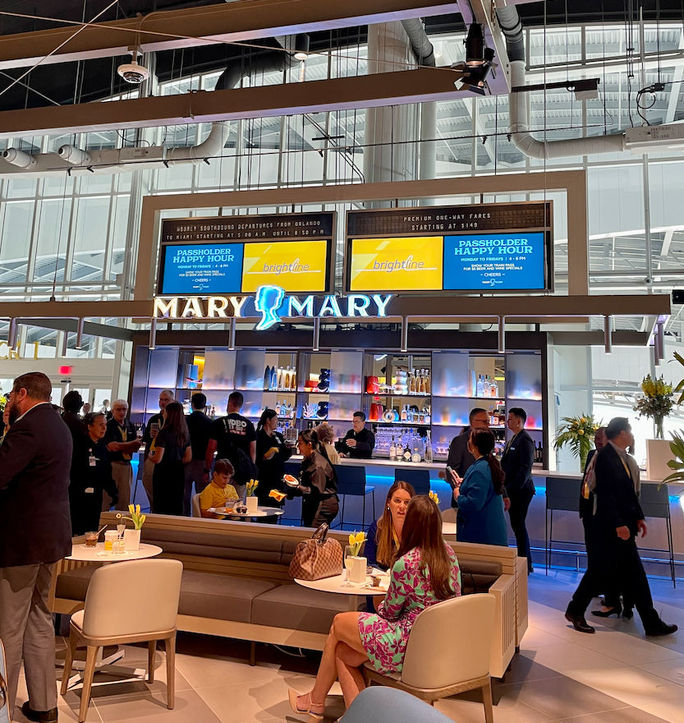 In another nod to the golden age of rail travel, a split-flap display above the bar provides updated train schedules, boarding times and more—with the unmistakable sound of flapping tiles bringing to mind the grand rail stations of Europe.
What those stations most likely don't have, however, is a signature scent blending notes of citrus and vanilla. Brightline's wafts through the stations—and if you like it, you can buy a Brightline candle at MRKT PLACE, the in-station convenience store selling last-minute gifts, sundries and refreshments. The station is designed to keep passengers inside, sheltered from the Florida heat until the train is ready to board. Passengers then take an escalator down to the two 1,000-foot train platforms.
The Brightline Orlando Station is inside the airport, adjacent to Terminal C, which opened in September and services JetBlue and international flights. It connects directly to the airport's Parking Garage C, which will have 350 parking spaces dedicated to Brightline guests. Passengers can easily travel to Terminals A and B via the automated people mover, and Brightline departure times will be displayed throughout the airport.
Goddard said the convenience of Brightline's Orlando airport station "opens up a whole bunch of new markets" for the train service, which launched in South Florida in 2018—including international travelers. "We consider the launch of this station more of a global launch than a local launch," he said. "We're in the process now of entering into contracts with wholesalers, and we're getting ready to put our system on the GDS over the next couple of months so that travel agents will be able to book and be commissioned because we know that's where a lot of that business is coming from." Commissionable rates will be in place by the time the Orlando service starts, added Goddard.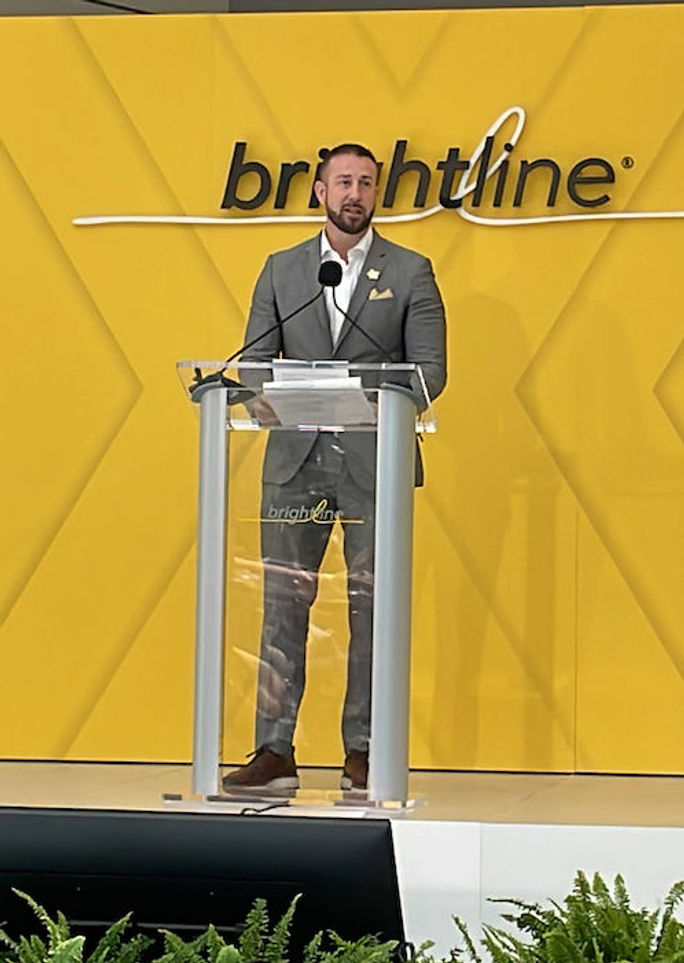 Currently, travel agents can register to become Bright Advisors at GoBrightline.com, which gives them access to discounted rates on Brightline's service in South Florida. Gabriel Martinez, Brightline's vice president of distribution, said the Orlando station unveiling prompted a rush of registrations.
"Everybody understands the importance of the travel trade," said Martinez. "We are evolving the tools that we will offer travel advisors."
Brightline's service between South Florida and Orlando provides travel advisors with new ways of selling Florida, added Martinez: "There are new opportunities to sell more and to sell longer because it will be more convenient than it's ever been."
As it expanded in South Florida, Brightline has made it easier for passengers to get to and from its stations with the Brightline+ service. PREMIUM fares include a complimentary Uber ride anywhere within a five-mile radius of a Brightline station. Passengers can also add an Uber ride to their trip within the Brightline app, with pickup times automatically aligning with the train's schedule.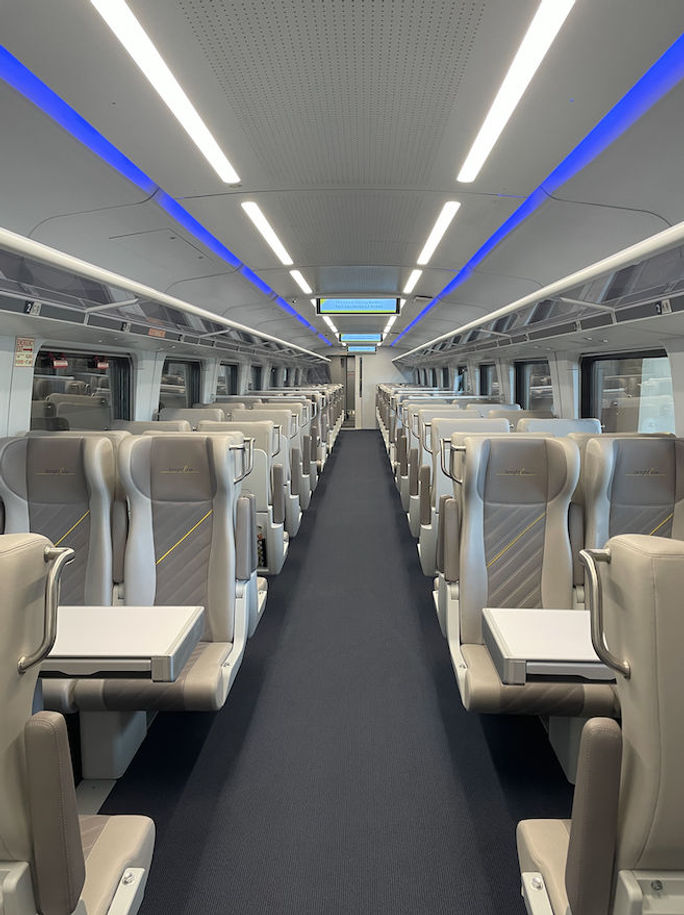 Brightline+ offers fixed-route shuttles between the Miami station and Miami International Airport (MIA) as well as three destinations in Miami Beach; and the Fort Lauderdale station and Fort Lauderdale/Hollywood International Airport (FLL). One-way rides cost $10 per person. The complimentary Brightline Aventura Mall shuttle takes passengers to the Aventura Mall Bus Stop. Neighborhood electric vehicles operate for free around the West Palm Beach, Boca Raton, Fort Lauderdale and Miami stations. Plus, Brightline offers free shuttles to special events and sporting events, including games for the Miami Marlins, Miami HEAT and Inter Miami CF.
Brightline's ease of use, on-time performance, comfortable leather seats with power and USB outlets, and snack and beverage service have earned it devoted fans along its South Florida route. After hearing about the soon-to-open Orlando service, a passenger on a recent Miami-bound train—who raved about Brightline's convenience, amenities and partnership with Uber—declared, "I'm never driving to Orlando again!"

Topics From This Article to Explore

All content is property of the owner, unless otherwise specified. This content is not owned, or maintained by TravelMart,
and is used only for informational purposes. Please visit the content owners link
via the source link for more information.