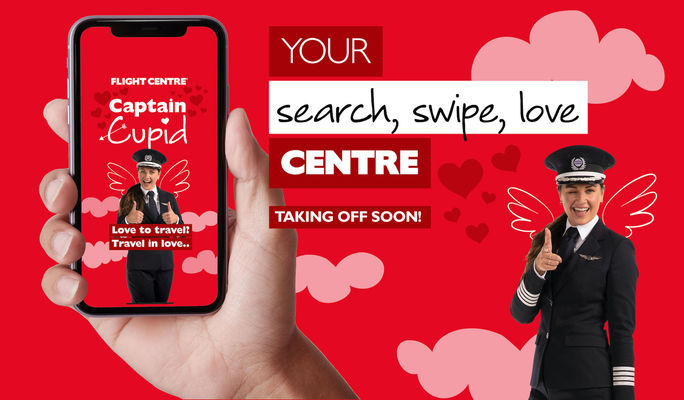 One of the most powerful travel agencies, Flight Centre Travel Group has launched a new "Captain Cupid" function on its mobile app designed to pair likely romantic partners on their next flight, cruise or tour.
The new feature was developed in response to the rise in solo travel in the wake of the COVID-19 pandemic.
"With around 42 percent of our global customers traveling solo, it's clear thousands of people each year are traveling in the hope of finding romance. So our app-based Captain Cupid service is long overdue," Flight Centre Global Managing Director Andrew Stark said in a statement. "In the last six months alone we've seen the number of solo travel bookings leap 6 percent globally."
"Imagine the number of times you've traveled and could've been sitting for hours on end with the person of your dreams and never realized it. Now with Captain Cupid, you'll know, and something beautiful could be unfolding on your next flight from London to Singapore, or while on safari in Kruger National Park, or on a cruise across the Pacific or around the Mediterranean," he added.
Travelers can download the Flight Centre app to start setting up their profile ahead of when the feature goes live in May 2023.
"We hope Flight Centre's Captain Cupid service will set an industry benchmark for blind travel dating into the future. We think the world is more than ready to embrace this travel innovation and embrace each other on long-haul flights, romantic sea voyages, and in the back of four-wheel drive vehicles."
---
For the latest travel news, updates and deals, subscribe to the daily TravelPulse newsletter.

Topics From This Article to Explore

All content is property of the owner, unless otherwise specified. This content is not owned, or maintained by TravelMart,
and is used only for informational purposes. Please visit the content owners link
via the source link for more information.