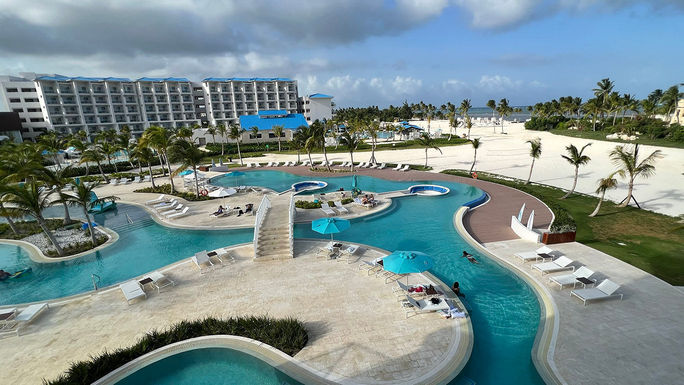 The Dominican Republic is synonymous with gorgeous beaches and relaxing tropical vacations for many U.S. travelers.
That turns out to be a perfect match for the popular Margaritaville Hotels & Resorts, which welcomes visitors with a laid-back vibe, plenty of good music and drinks, and the embodiment of Jimmy Buffett's playful tropical lyrics.
Located in Cap Cana, a master development that's an easy 20-minute drive south of the Punta Cana airport, the Margaritaville Island Reserve by Karisma Cap Cana opened in November 2021 and is an all-inclusive resort. Visitors will discover 519 suites, and 40 island reserve villas on property, along with 10 restaurants, five bars, and a spa and fitness facility.
A recent long weekend visit proved that the resort is a fantastic choice for either couples or families—the complex even has two separate lobbies, one for families and the other for adults. There's a family friendly pool, an extensive adults' pool, and even a kids' water play area that we were more than a little tempted to run through ourselves, it looked so fun.
Our room was quite spacious and had a tropical, nautical flair. We had an extensive balcony area with seating that overlooked the pool and beach—something we enjoyed using in the evenings.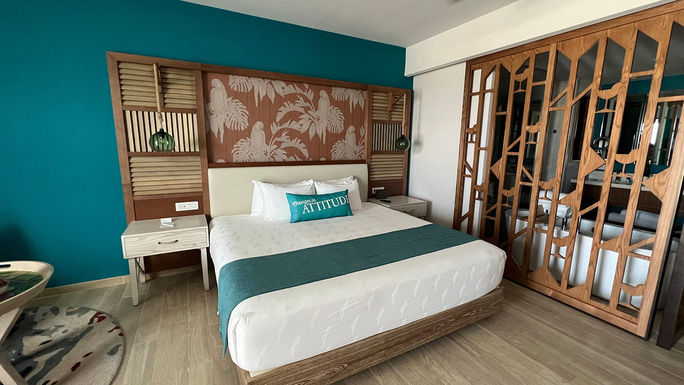 On the adult side, where we spent the majority of our time, we were pleasantly surprised by the diversity of the guests. As a queer interracial couple, we often feel like we stick out in many all-inclusive resorts, but it was nice to see a mix of straight and queer guests, as well as the rainbow of skin colors present. Additionally, the vibe of the other travelers here was extremely friendly, and we made fast friends everywhere we went. 
Food and Drink
There are multiple options for dining at the resort. Breakfast was the most limited, but still offered everything a guest would want. The Boathouse is open for a buffet breakfast daily, although Margaritaville prefers to think of this as a food display, not a buffet.
That means that many of the dishes are displayed for you, but it's cooked to order once you request it. There's also an extensive array of traditional "buffet" style areas you can serve yourself from, including fruits, side dishes, Dominican fare, cheeses, meats, donuts, pastries, and more. There's even a self-serve mimosa and Bloody Mary area, so you're never far from a good drink.
We also tried the room service breakfast (included in the resort price) one morning, and it was fantastic and served warm. I was also impressed that there's a coffee shop with all the fancy hot or cold items like caramel macchiatos' and that's also included. Some of the all-inclusive resorts I've been to like to charge extra for that.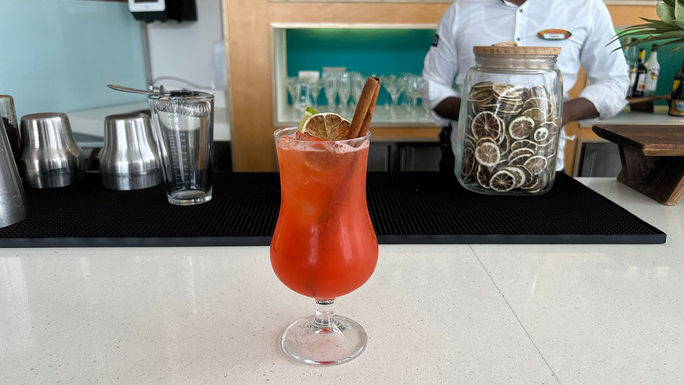 There's also a creative points system in use here for the in-room minibar. The water, coke, beer, etc. in your minibar at check in are yours to enjoy. Bottled water is replenished daily for free. But you also receive 2,000 points per day to use in the Joe Merchant's Provisions center.
You can "purchase" sodas, beer, wine, liquor, chips, candy, and more with your points. If you don't care about keeping your minibar stocked, you can even spend your points on fancy chocolate bars to take home as souvenirs or gifts. I thought this was a smart way to run the minibars in an all-inclusive atmosphere to avoid hoarding but still give guests maximum flexibility.
At lunchtime, options abound. Kos is a delightful Mediterranean tavern near the pools, while Cheeseburger in Paradise has excellent burgers, chicken sandwiches, and wings. Rum Runners (which is adults only) also delights with a breezy atmosphere and a Caribbean vibe to the menu.
Dinnertime provides guests with a variety of restaurants to choose from, including the excellent Italian dishes at Frank & Lola's, JWB Steakhouse (where I actually ordered the swordfish, which was so flavorful), and Mon So Wi, a delightful pan-Asian option with just a bit of Dominican flair. There's also a special adults-only dinner restaurant available for an additional fee called A-Lam-Bik, where reservations are required.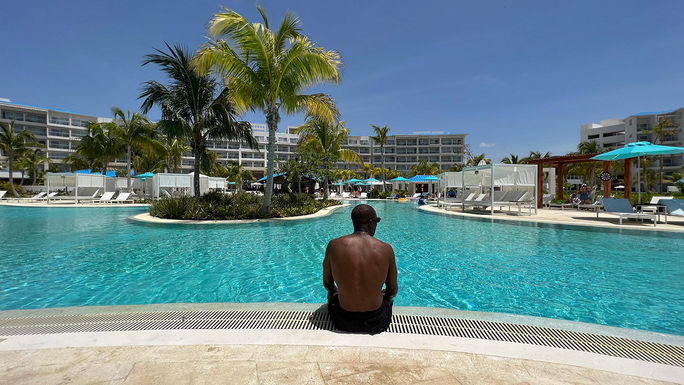 The biggest irony at the resort was that the margaritas (normally a favorite drink of mine) didn't end up as my go-to over the weekend. Instead, I found myself really enjoying the Mango Tangos, Rum Runners, and shots of Mamajuana, which Dominicans laughingly call the "baby maker." This sweet, delightful spirit seems part sherry, part rum, and part honey—and is both addictive and dangerous!
Activities
One of the things that I loved about the Margaritaville resort was that I didn't feel the need to go off property and find entertainment, because there was always something happening. Whether it was a massage class, an actual massage in the 11,000 square-foot St. Somewhere Spa By Karisma (wonderful!), a foam party at the main pool, live music in the evenings, or a Dominican food festival for dinner, it never felt like we had to search for things to do.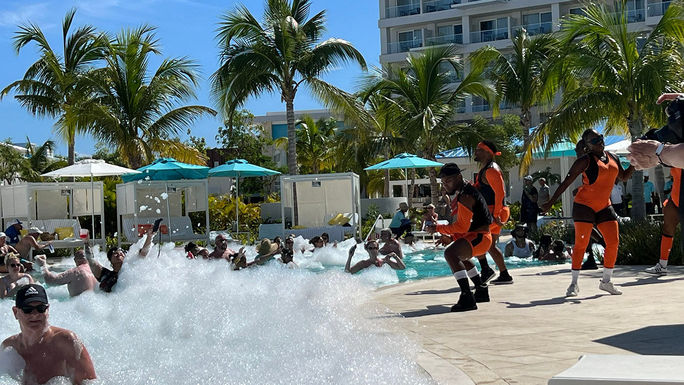 The resort also boasts tennis and pickle ball courts, yoga, card and table games, beach volleyball, and activities like rum tastings and brewery tours. The Entertainment Village area hosts a lot of the evening activities and serves as sort of a nighttime hub for the resort.
There are plenty of nearby things that the tour desk can book for guests, from golf to scuba diving, but with all the new friends we made on property, we were happiest to sit at the Punch Bar, overlooking the Entertainment Village, and socialize until well after the sun had set on another perfect tropical day. 

Topics From This Article to Explore

All content is property of the owner, unless otherwise specified. This content is not owned, or maintained by TravelMart,
and is used only for informational purposes. Please visit the content owners link
via the source link for more information.