The term net zero is regularly used when talking about efforts to address climate change and reduce its trajectory.
But what does it mean to achieve net zero? How is one to do that? And how does all of this apply to the travel industry, travel providers, and individual consumers?
If you have questions, you're not alone. 
The good news is Sustainable Travel International, an organization whose mission is to protect and conserve the planet's most vulnerable destinations, has just announced a groundbreaking new (and free) webinar program designed to address such questions. The series, called Road to Net Zero, has been created for travelers and travel industry members.
Slated to kick off on April 20, the goal of Road to Net Zero is to catalyze climate action in travel, including supporting companies, destinations, and individuals, on their journey to net zero. 
"We are at a point where the goal is clear and there is a strong desire to change, but we continue to hear that stakeholders don't know how to translate their aspirations into action," said Paloma Zapata, CEO of Sustainable Travel International. "Our Road to Net Zero webinar series aims to cut through the noise by providing stakeholders with realistic ideas and concrete guidance that will help them mitigate the carbon footprint of their travel."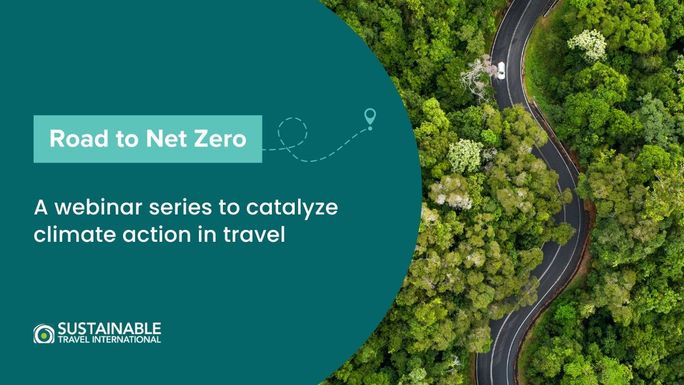 Each webinar installment will aim to demystify what for many, remains a confusing and often controversial topic. To that end, viewers can expect a deep dive into the various aspects of climate action in travel—ranging from lower carbon products and consumer engagement to investments in nature, technology, and infrastructure.
The webinars will also bring together subject matter experts and industry professionals, who can help shed light on what for many remains an abstract topic, while also highlighting real-life examples of climate action in practice.
The first installment of the webinars, for instance, will focus on a topic that has been in the headlines quite a bit in recent months: the effectiveness (or lack thereof) of forest carbon offsets as a climate solution. The discussion will feature Zapata, as well as Marc Baker and Jo Anderson of Carbon Tanzania, a social enterprise with extensive experience implementing forest conservation projects and quantifying emissions reductions.
The webinar series kicks off just two days before Earth Day 2023, which couldn't be a more appropriate time for the new educational series. As Sustainable Travel International said when announcing the new webinar series: "It's readily apparent that in order to prevent climate catastrophe, the world must take swift, drastic action to reach net zero emissions."
Road to Net Zero, aims to help each of us play our part. 
If you'd like to register for the upcoming April 20 webinar you can do so here.
---
For the latest travel news, updates and deals, subscribe to the daily TravelPulse newsletter here.

Topics From This Article to Explore

All content is property of the owner, unless otherwise specified. This content is not owned, or maintained by TravelMart,
and is used only for informational purposes. Please visit the content owners link
via the source link for more information.