Traveling foodies might want to set their sights on Lima, Peru.
The South American destination dominated at the World's 50 Best Restaurants awards this week, with four restaurants making the list, including Central at number one.
"As Central's concept developed over the years, a menu took form that takes diners through 15 different Peruvian ecosystems, categorized by altitude – from 15 meters under the Pacific Ocean to 4,200 meters up in the Andes. Each dish reflects the origin of its ingredients, from Dry Valley (shrimp, loche squash, avocado) to Amazonian Water (pacu fish, watermelon and coca leaf)," the awards website states.
Elsewhere in the Peruvian capital, Maido—described as a Japanese restaurant with Peruvian heart—ranked sixth, Kjolle came in at number 28 and Mayta finished 47th.
Unsurprisingly, Europe is also heavily featured in this year's top 50, with Spain receiving six entries—including the number two, three and four restaurants—Italy placing five restaurants and France receiving four entries. London also secured three restaurants in the top 50.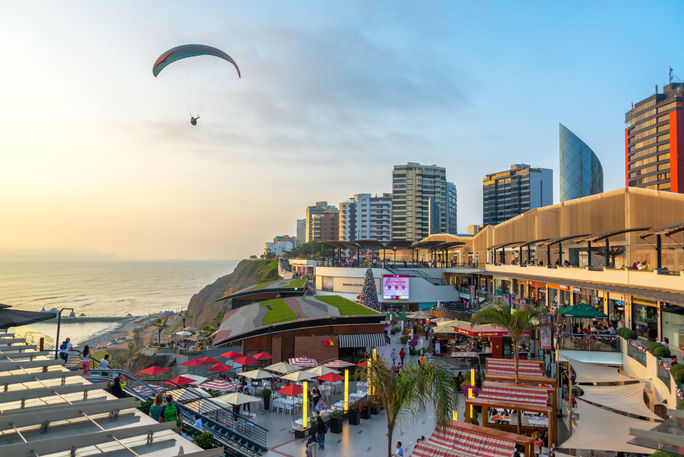 Bangkok, Thailand and New York City are also worth mentioning. The former placed Le Du at number 15 and Gaggan Anand at number 17.
Meanwhile, the Big Apple saw Atomix climb all the way to eighth after finishing 33rd a year ago. The Korean favorite received the Highest Climber award and was named the Best Restaurant in North America. Chef Eric Ripert's Le Bernardin finished 44th.
Overall, this year's top 50 features restaurants from as many as 24 territories on five different continents, with at least a dozen restaurants (marked in bold) entering the list for the first time.
1. Central (Lima, Peru) – Best Restaurant in South America
2. Disfrutar (Barcelona, Spain) – Best Restaurant in Europe
3. Diverxo (Madrid, Spain)
4. Asador Etxebarri (Atxondo, Spain)
5. Alchemist (Copenhagen, Denmark)
6. Maido (Lima, Peru)
7. Lido 84 (Gardone Riviera, Italy)
8. Atomix (New York City) – Highest Climber, Best Restaurant in North America
9. Quintonil (Mexico City, Mexico)
10. Table by Bruno Verjus (Paris, France) – Highest New Entry
11. Trèsind Studio (Dubai, UAE) – Best Restaurant in the Middle East and Africa
12. A Casa do Porco (São Paulo, Brazil)
13. Pujol (Mexico City, Mexico)
14. Odette (Singapore) – Best Restaurant in Asia and Chef's Choice: Julien Royer
15. Le Du (Bangkok, Thailand)
16. Reale (Castel di Sangro, Italy)
17. Gaggan Anand (Bangkok, Thailand)
18. Steirereck (Vienna, Austria)
19. Don Julio (Buenos Aires, Argentina)
20. Quique Dacosta (Dénia, Spain)
21. Den (Tokyo, Japan)
22. Elkano (Getaria, Spain)
23. Kol (London, England)
24. Septime (Paris, France)
25. Belcanto (Lisbon, Portugal)
26. Schloss Schauenstein (Fürstenau, Switzerland)
27. Florilège (Tokyo, Japan)
28. Kjolle (Lima, Peru)
29. Boragó (Santiago, Chile)
30. Frantzén (Stockholm, Sweden)
31. Mugaritz (San Sebastian, Spain)
32. Hiša Franko (Kobarid, Slovenia)
33. El Chato (Bogotá, Colombia)
34. Uliassi (Senigallia, Italy)
35. Ikoyi (London, England)
36. Plénitude (Paris, France)
37. Sézanne (Tokyo, Japan)
38. The Clove Club (London, England)
39. The Jane (Antwerp, Belgium)
40. Restaurant Tim Raue (Berlin, Germany)
41. Le Calandre (Rubano, Italy)
42. Piazza Duomo (Alba, Italy)
43. Leo (Bogotá, Colombia)
44. Le Bernardin (New York City)
45. Nobelhart & Schmutzig (Berlin, Germany)
46. Orfali Bros (Dubai, United Arab Emirates)
47. Mayta (Lima, Peru)
48. La Grenouillère (La Madelaine-sous-Montreuil, France)
49. Rosetta (Mexico City)
50. The Chairman (Hong Kong)

Topics From This Article to Explore

All content is property of the owner, unless otherwise specified. This content is not owned, or maintained by TravelMart,
and is used only for informational purposes. Please visit the content owners link
via the source link for more information.