Brightline has launched ticket sales for the highly-anticipated Brightline Orlando connection.
While final preparations are in the works for its grand opening, tickets between South Florida (Miami, Aventura, Fort Lauderdale, Boca Raton, West Palm Beach) and Orlando are currently on sale at gobrightline.com (or the app), for late summer through early 2024 travel.
The official opening and inaugural rides will be announced after Brightline has completed required testing. Guests may sign up for Brightline emails for information on when summer inaugural rides go on sale.
Patrick Goddard, president of Brightline said that "guests and the travel market have spoken loudly, and we want to respond by opening ticket sales from late summer through the beginning of next year. While we are finalizing an official launch date, guests can now book travel for Labor Day, Halloween and holidays through the new year."
Brightline's one-way SMART fares start at $79 for adults and $39 for kids. Groups of 4+ save an additional 25 percent. The SMART service offers a comfortable business-class onboard option with hand-stitched leather seats, complimentary Starlink Wi-Fi, multiple power and USB outlets along with food and beverages available for purchase.
One-way PREMIUM fares start at $149. First-class added amenities include a dedicated lounge, priority boarding, checked luggage, and complimentary snacks and beverages.
Transportation and mobility options at Brightline Orlando Station will feature new Brightline+ products including shuttles, Uber ride-share and car rental options.
Once booked, guests receive instructions on adding extras such as parking, checked baggage, and Brightline+ mobility options available closer to their trip date. In South Florida, Brightline offers a wide variety of options to get guests to and from the stations using Brightline+ with Uber, fixed route shuttles to the airports, neighborhood electric vehicles and event shuttles.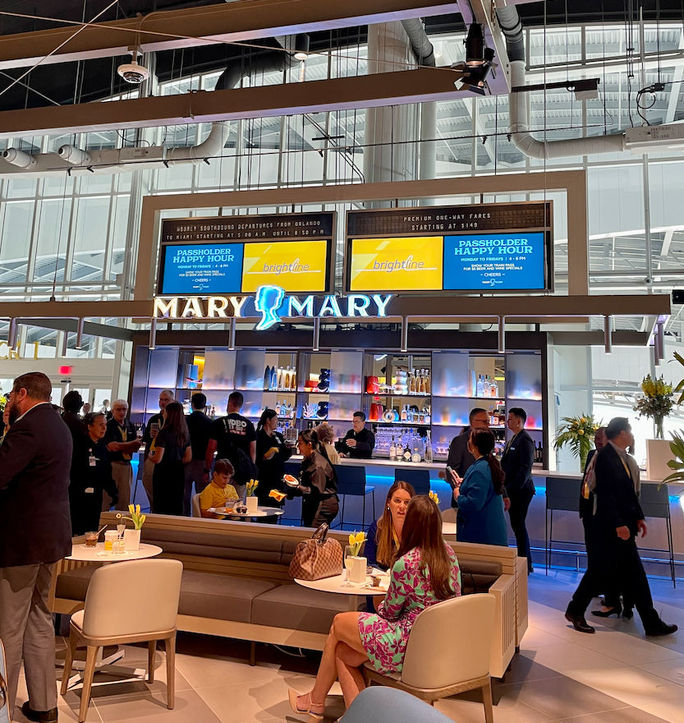 PREMIUM booked guests also have access to first and last-mile service to and from the station with complimentary Uber rides within a five-mile radius.
Brightline for Business is offering an introductory promotion providing a limited time exclusive offer for travel between South and Central Florida. 
Unveiled last month, the 37,350-square-foot station is located in Orlando International Airport's new Train Station facility adjacent to Terminal C. The station connects directly to the airport's Parking Garage C, with more than 350 parking spaces branded for Brightline guests. It also provides direct access to airport terminals A and B via the airport Terminal Link (automated people mover) in under five minutes.
Train Schedules
Brightline's rail service will include 16 daily round trips with hourly departures between Miami and Orlando. Regular service from Orlando to Miami will stop at all Brightline stations including West Palm Beach, Boca Raton, Fort Lauderdale and Aventura. 
Additional trains will serve commuters between Miami and West Palm Beach with early morning departures at 5:00 a.m. from West Palm Beach and late-night departures until 12:45 a.m. out of Miami. 

Topics From This Article to Explore

All content is property of the owner, unless otherwise specified. This content is not owned, or maintained by TravelMart,
and is used only for informational purposes. Please visit the content owners link
via the source link for more information.