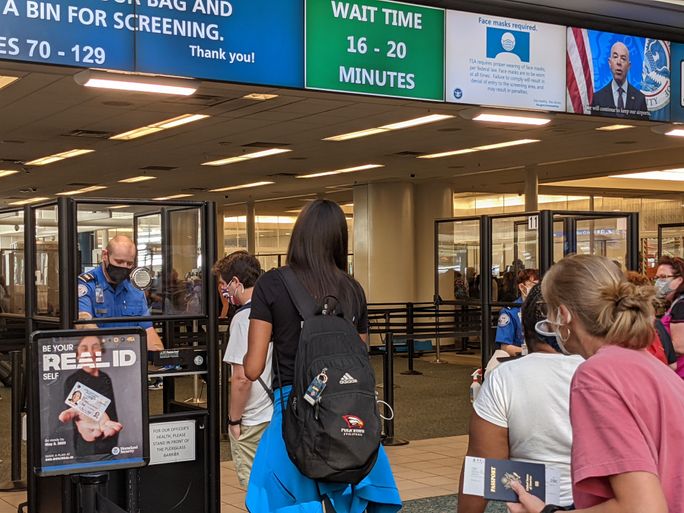 The Transportation Security Administration (TSA) is now accepting mobile IDs in Google Wallet on Android mobile devices.
The agency announced that it has collaborated with the State of Maryland and Google to accept Maryland-issued mobile driver's licenses and ID cards in Google Wallet on Android mobile phones at select TSA airport security checkpoints. Passengers must have TSA PreCheck on their boarding pass to participate.
Baltimore/Washington International Thurgood Marshall Airport (BWI) and Ronald Reagan Washington National Airport (DCA) are among the initial 25 participating airports.
To participate, eligible travelers can present their ID in Google Wallet at select TSA checkpoints by turning on Bluetooth and holding their phone or watch on the second-generation Credential Authentication Technology (CAT-2) reader device. Once the CAT-2 confirms the identity match, a TSA officer will verify the match and the passenger will proceed to security screening without ever exchanging a boarding pass.  
TSA's partnership with Google and Maryland spotlights our commitment to implementing new technologies and expanding use of mobile driver's licenses," TSA Administrator David Pekoske said in a statement.
"This launch represents the first mobile driver's license in Google Wallet. We continue to work closely with other states on deploying this capability across the country. TSA is committed to collaborating on international, open standards that provide enhanced security, privacy protections and offers airline passengers a more efficient and convenient travel experience."
---
For the latest travel news, updates and deals, subscribe to the daily TravelPulse newsletter.

Topics From This Article to Explore

All content is property of the owner, unless otherwise specified. This content is not owned, or maintained by TravelMart,
and is used only for informational purposes. Please visit the content owners link
via the source link for more information.