Universal Orlando Resort has announced new details about the upcoming opening of Minion Land on Illumination Ave., an immersive new area developed in partnership between Universal's creative team and the filmmakers from Illumination.
The all-new land, which is slated to open at Universal Studios Florida this summer, expands on the resort's beloved Despicable Me Minion Mayhem attraction and will debut "a new collection of experiences for guests of all ages inspired by the beloved Minions franchise."
Highlights will include Illumination's Villain-Con Minion Blast, an attraction allowing guests to compete against each other in a fully interactive gaming experience before exiting through Evil Stuff, an all-new retail location selling Villain-Con and Minions merchandise.
Meanwhile, Illumination's Minion Cafe will offer an immersive new eatery boasting three themed areas designed after popular Minions Kevin, Stuart, Bob and Otto. The Kitchen will provide a glimpse of the equipment and gear the Minions have used to whip up the cafe's menu while guests can dine in the Breakroom equipped with "Office Safety Tips" and even a vending machine stocked with mischievous items.
Finally, the Dining Room will feature colorful artwork courtesy of the Minions. There's also an outdoor patio overlooking Minion Land where guests can dine.
The cafe's inventive, family-friendly fare features nearly 20 items inspired by memorable characters and staples from the Minions franchise, including "despica-bowls" such as Otto's Noodle Bowl, Agnes's Honeymoon Soup and Carl's Crispy Cauliflower (vegan offering); handhelds like the Steak & "Cheese Ray" Sandwich and desserts like Bob's Teddy Bear Chocolate Cream Puff. There's also a kids' menu.
The Minion Cafe will offer an express window with a limited menu for those in a hurry.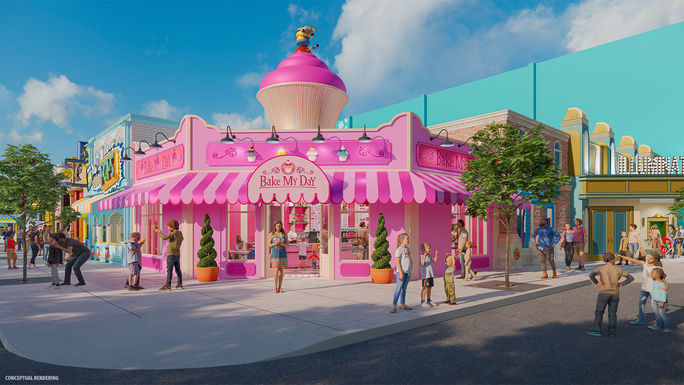 The Bake My Day retail location and bakery will feature a selection of Minion-themed sweet treats such as cupcakes, macarons and s'mores, among others, as well as Minion-inspired merchandise like apparel, plush, drinkware, accessories, keychains and more.
Pop-A-Nana will serve sweet and savory popcorn inspired by the Minions' love for bananas. Cute popcorn buckets will include the Minion Selfie bucket. In addition to delicious popcorn, guests can visit Freeze Ray Pops to grab colorful popsicles inspired by Gru, the Minions and Vector – along with beverages.
At Illumination Theater, guests can meet characters like the Minions, Gru, Margo, Edith and Agnes.
Travel advisors can visit VAXVacationAccess.com to book their clients this summer.

Topics From This Article to Explore

All content is property of the owner, unless otherwise specified. This content is not owned, or maintained by TravelMart,
and is used only for informational purposes. Please visit the content owners link
via the source link for more information.